After a short summer break, The Seven Miles Out Cryptic Quiz will be returning for a special arts and culture event on Thursday August 25th as part of the Stockport Old Town Fringe Festival!
If you are new to The Cryptic Quiz it features seven rounds of seven questions, including a themed picture round and a music round featuring seven songs from the past 70 years.
It's been a lot of fun writing and hosting the quiz, so here's a few of the things I've learnt along the way, many of which can actually be applied to designing websites too!
1. Keep it Simple
In some of the early quizzes, I added in bonus marks on certain questions and doubled the amount of points in the final round.
I soon realised that whilst it added a little extra excitement, not everyone payed attention to this during marking so it ended up taking twice as long to cross check the scores (which is the most boring bit of running the quiz!).
2. Listen and Adapt
Much like in web design, I've learnt to revise the quiz each month based on the feedback of the previous quiz.
Whether it's changing the layout of the quiz sheets to make them easier to fill in or taking note of the groans that ring out when an unpopular subject comes up, it's important to listen to your audience.
Being a cool and kooky venue, the Seven Miles Out patrons tend to enjoy the music and cinema rounds and not so much sports so I try to tailor the questions to best suit people's interests.
3. Mix it Up
We've had a wide collection of lovely people attend the quiz and the age range can span from 20 to 70.
As mentioned earlier, our music round includes a song from each decade since the 1950's so there is usually something for everyone! It's important to keep questions varied enough that everyone feels included and not alienated.
I try to include questions are either common knowledge or currently in the news. Alternatively it's good to include a few harder questions with a multiple choice answer to keep it an even playing field.
4. Don't be Vague
Just as it is crucial that my webdesign clients have a clear understanding what I'm going to deliver to them, so is it that my quiz punters know how to answer their questions.
The Cryptic Quiz gets strangely competitive so it's important that the questions are clear so everyone has a fair chance of winning.
As well as the obvious glory that comes with being Cryptic Quiz champion, each month we have kindly had prizes donated to us from a whole host of fantastic Stockport businesses including The Bakers Vaults, Stockport Museums, Wonderland Cakes, Cryptic Ales, Cafelitos and Lord of the Pies to name but a few.
5. Have Fun
Above all, the most important thing is to keep the audience smiling! I usually include a few daft questions and some funny Youtube videos along the way and we keep the music playing and the bar open!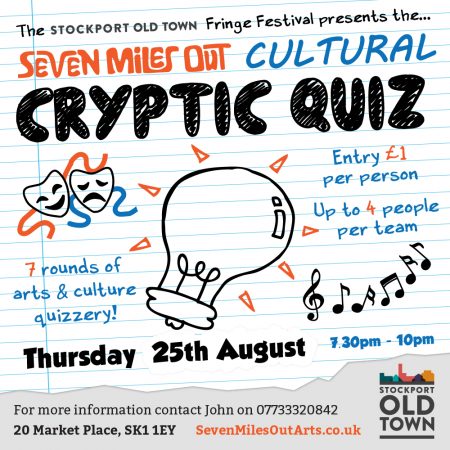 The Seven Miles Out Cultural Cryptic Quiz takes place on Thursday 25th August as part of the Stockport Old Town Fringe Festival. 
Since it's a cultural theme for the Fringe Festival, we'll be including questions on art, cinema and comedy plus much more. Doors open 7.30 and we typically finish about 10pm. It's £1 per person to enter with teams of up to 4 to keep it fair. We hope to see you there!
You can find out more about what else  is happening at Seven Miles Out on their website, Facebook and Twitter pages.