For many service-providing businesses (included PJWD), getting people to fill in your contact form will be the main aim of your website.
Sure, when you promote your business it's great to get social follows. People subscribing to your newsletter is even better! But contact form enquiries are often the biggest step towards winning a new piece of work.
Whilst having someone fill in your contact form might feel like an end goal, in reality it's just the beginning of a potential client relationship.
It's a major part of how your customers and clients interact – not only with your website, but also with your brand and business as a whole.
A positive contact form experience sets up your entire relationship with the enquirer on good footing. Doing it badly risks confusing or annoying your potential customers.
Whether you want to increase the number of enquiries or improve the quality of your leads, here are my top tips to improve your contact form experience.
How long should my contact form be?
The key to any successful contact form is finding a balance between:
collecting enough useful information (so you can follow through on the enquiry and identify time wasters), and
keeping the form easy enough to complete.
On one hand, a form with just two fields (name and email) is super easy to fill out and will probably get completed by lots of people. However, then you'll have to spend hours following up to find out what each of them actually wanted.
Alternatively, including more detailed form fields will glean lots of useful information, but most people are put off by such forms.
One consideration is the device your website visitor is likely to use. If they're on a phone, expect short messages. Laptop users will find it easier to type longer paragraphs.
Each field you add is an extra obstacle your customer must get past to submit the form. Consider that most people probably fall into one of these categories:
Busy – "I don't have time to fill out this form."
Lazy – "I can't be bothered filling out this form."
Frustrated – "I don't understand this form."
Uncomfortable sharing personal information – "I'm not telling them that."
There's no universal correct answer that is applicable to every business. In most cases, it's about experimenting to find a balance that suits both you and your customers.
What fields should I include in my contact form?
Asking for a name and email is a given. You'll need these to respond at all! A phone number may also be useful depending on your business, but make it an optional field as people might not want to be called.
A nice big message box will allow your customer to explain their enquiry. Give them guidance on what you need to know so you can respond effectively. You can do this either in the field label or by using placeholder text within the field itself.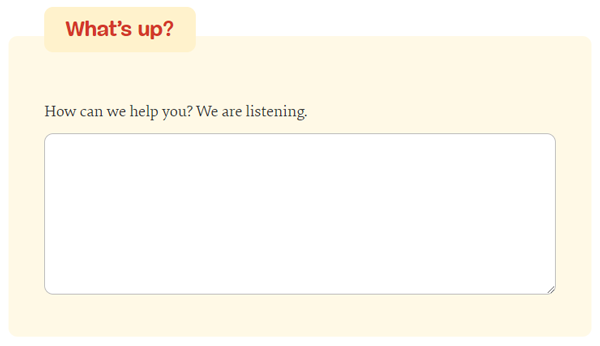 From a design perspective, the height of the textbox will offer a visual clue to how much you expect them to write. Make it too small and the answer might be too short to be useful. If it's too tall, people might be put off thinking they need to provide an essay.
You might want to consider one additional field to gain some more specific information, provided it will not slow down the process of filling in the form. For example, don't ask people to complete a "subject" field, as they will already explain themselves in the main message field.
If you want to categorise and prioritise your enquiries, you could use a dropdown box and provide categorise such as 'Service/How can I help'. But once again, keep this simple!
The complexity conundrum
If you want more enquiries, a simple form is the way to go. However more is not necessarily better, as it ultimately creates a load of often pointless admin work.
A more complex form will generate a lower number of enquiries, but the ones you do get will likely be from genuinely interested potential customers.
For a web design studio such as PJWD where development projects take several months, the project enquiry form is now more in-depth than before. This means the studio gets a smaller number of higher-quality leads, freeing up time to focus on delivering client work. For general enquiries, there's still email.
The important thing is to so what's right for your business and audience. And don't be afraid to change things up over time!
Validate my existence!
What happens after someone takes the time and effort to complete your form and hits 'Send' is key in building a positive bond between you and the customer.
It should be immediately clear that the message has been sent and hasn't evaporated into cyberspace.
Typically, the first thing someone sees after submitting the contact form is the validation: a quick line of text to let them know if the form submitted or not.
Tell them what will happen next. How long should they expect to wait for a response? Should they keep an eye out for a follow-up email (and should they check their junk mail folder)?
Test your form by trying to submit it with empty fields or invalid data. Check what the validation message says and then revise as appropriate to match your own tone of voice.
Validation messages are simple but can be very powerful. It's far too easy to forget about them and simply leave in the generic default message that comes with your software – a missed opportunity to build the relationship.
The follow-up email
To leave no guesses whether you have received the message – and to start the relationship on a positive note – you might want to send an automated 'Thanks for your message' response to the email address they supplied.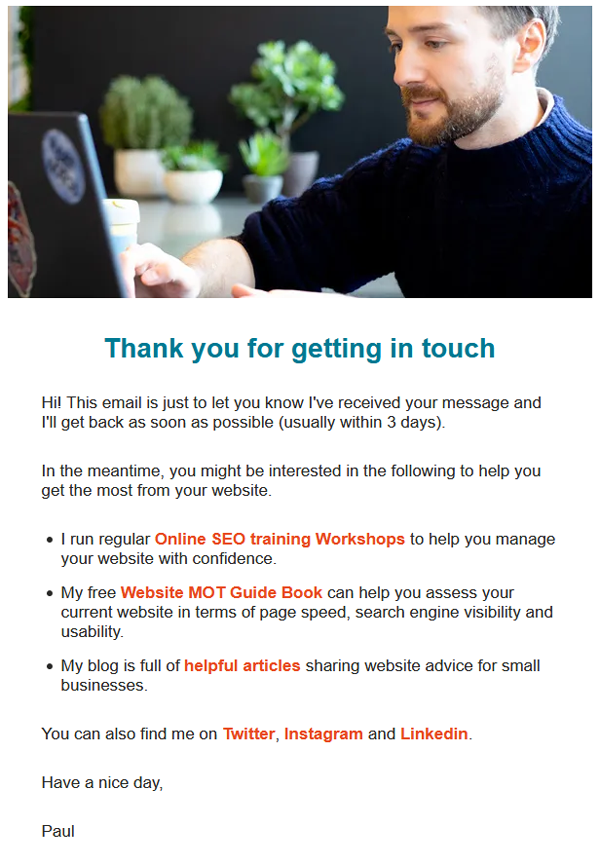 Here you can go into more detail about what will happen next, specifically how and when they can expect your personal reply.
Consider what else might be useful for them to know about at this stage. You can use this opportunity to tell them about your other services or to share useful articles or resources.
Typically, automatic emails are sent in plain text format. As it says on the tin, it's just an unstyled text email. This means you can't include images or links (although most email clients will turn URLs into clickable links). It's basic, but the important thing is you are clearly communicating with the enquirer and building up understanding and trust.
If you really want to impress, you can create a more advanced HTML email response designed around your company branding. You can also include images and tidy text links.
However, coding impressive HTML emails does require (a very specific set of), coding skills so you may need to work with a developer.
Fun fact: While HTML emails are technically more advanced than plain text, they have barely changed since the early 90s. Coding them requires you to engage in an old-school battle of workarounds and filthy hacks that will bring out a cold sweat of even the most seasoned developer!
When life gives you spam
The downside to including a contact form on your website is of course their vulnerability to being filled in by irritating spam bots.
For WordPress websites, generally use Contact Form 7 for contact forms. This comes with comment and IP blacklisting built in, which you can update over time to block repeat offenders. You can also install a honeypot which adds an invisible dummy field that will block enquiries when a robot fills it in.
Whilst both of these methods are relatively effective, in my experience the best way of stopping spam on WordPress websites is the paid Akismet plugin which costs roughly £80 a year.
I do not recommend using Google ReCaptcha on your website as is it essentially an advertising tracking script.
Bonus contact form tips
Whatever data you collect via your contact forms and what you do with it should be documented in your website's privacy policy.
Test, test and test again! Make sure to regularly submit your own form and review whether the whole process (form fields, validation, follow up email) is still in line with your current business objectives. Also test across different devices.
Boost your mailing list by giving people who fill in the contact form the chance to subscribe to your newsletter (if that's your goal). Just make sure your users have to actively opt in with a checkbox so you stay GDPR compliant.
Some people might not want to fill in your form at all! Make sure to include your email address nearby too as a backup!
Contact forms can make or break things with a new client in the early stages when they are just about to make that first connection with you. That is not the time to mess things up, so it really is worth getting right.
Need help improving your contact forms? Book a web design consultancy power hour with PJWD and I'll help improve your online presence.
Popular Article Topics
Series & Collections