My monthly newsletter has evolved a great deal over the last couple of years. It is one of the aspects of my business that I enjoy doing the most: curating bits of useful information both from my own site and from elsewhere on the internet to help my customers get the most from their websites.
It is a team effort between me, Stockport's favourite design hound Bo – who shares his exclusive tips and observations – and my marketing sidekick Karen.
This year, the PJWD newsletter will become a bigger focus of the content I share, so I thought it would be a good time to share what I've learned about newsletters.
Content is king for inboxes
People are busy, and the online world is noisy. So when people allow you into their inboxes, they not only deserve but also expect great content.
Last November, I was so happy to receive this reply to my monthly newsletter:
I receive your newsletters and I think they are fabulous. They are super informative, well written, engaging and easy to read. It makes such a nice change to receive a newsletter that you actually want to receive. Fantastic job.
I share this not to blow my own trumpet, but to demonstrate that putting an effort into content is worth it, and that you don't need to bombard people with email after email in order to have an impact.
So what makes for good email content?
Keep it simple. You don't need to repeat a whole blog post; explain what it is about and signpost people to the right place.
A newsletter isn't a sales brochure, so really think about your recipients' challenges and needs (as opposed to how much you'd like to sell to them).
The majority of my newsletter content is curated from elsewhere (e.g. my blog or case studies), but this is presented in a new way – often with extra information – and there is also new content that isn't found on my social media or anywhere else.
Good form
I have previously written about how you can make your contact forms better, and there is some overlap when it comes to newsletters. 
Here are a few additional things I have learned.
You don't need lots of information in order to send someone a newsletter. Just an email address will do.
Explain what you will be sending them. Nobody signs up just to get another email to fill up their inbox. Show the value. A great way of doing this is to link to previous copies of your newsletter so they can get a feel for what they are signing up to.
Add personality. Whether that means a heartfelt thanks or a bit of humour – whatever is true to you. Just don't default to boring marketing speak.
Respect people's privacy
Digital privacy is really important to me both personally and in my business. This was part of my decision last year to switch from Mailchimp to Buttondown.
I had turned off tracking in Mailchimp about a year ago, but then became aware that even though I could no longer see how people interact with my emails, Mailchimp was still tracking whether you opened and what you clicked on.
This didn't sit right with me. I think it's a bit creepy but sadly commonplace among many free-to-use services. So I sought out an alternative. 
ButtonDown is an independently run (literally by one man named Justin!) newsletter software where you can properly turn off tracking.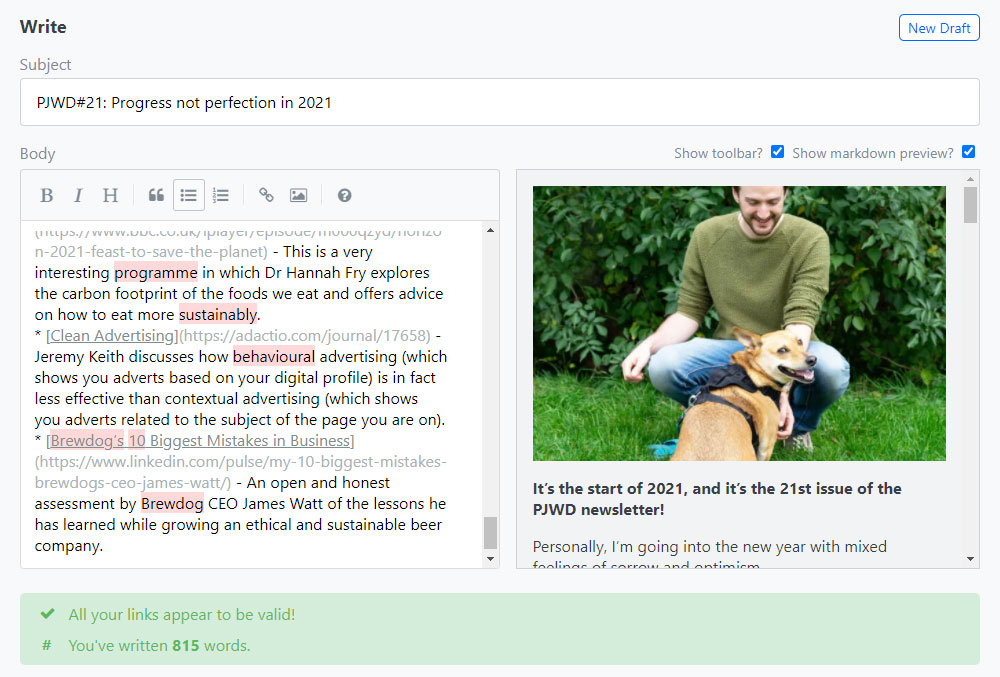 I've personally loved using ButtonDown so far. It respects my mailing list's privacy, it's clean, it's simple and it sends me a funny gif whenever someone signs up.
It's minimalist interface does mean you do need a little coding knowledge (there's no drag and drop page builder so content styling is done using a format called Markdown) so it's potentially not for everyone, but for me it's brilliant.
It's nothing personal
Well, email is very personal, but it is important to not take any unsubscribes personally. People have different reasons for unsubscribing, and it is likely more to do with their circumstances rather than a commentary on you or your content.
I joke that I've switched off tracking so I don't see how much more popular Bo's tips are than my well-thought-out blog posts about serious matters like digital privacy, but the truth is that if you have tracking switched off, you won't even notice if someone unsubscribes anyway.
This year I intend to post less on social media, so if you'd like to stay in touch, I'd love it if you subscribed to the PJWD newsletter.
Popular Article Topics
Series & Collections