Optimising your website based on your location is a key SEO goal for any business.
Specifically, registering for a Google Maps pin via Google Business is one of the most effective ways to show up for local SEO (for example, I primarily optimise my website for phrases like 'Web Design Stockport' or 'SEO training Manchester').
That said, the pandemic has resulted in many businesses embracing new opportunities to operate online, not limited to their geographic locations.
Since moving my SEO training workshops online, I've enjoyed working with business all around the UK rather than just my neighbours around Stockport and Manchester. Though not exactly the same, having meetings or consultancy calls via video has become second nature to many of us. Meanwhile, local shops have increasingly started posting their wares around the country or even abroad.
It feels like we're in a weird transition when it comes to local SEO in a world where Google rewards businesses with a Maps pin, but where the physical location of businesses is becoming less important.
With many people working from home, there is an additional hurdle if you don't want your address to be public in Search (personally I pay for a virtual office at a local co-working centre and use that address as my Google Maps pin).
So what does this all mean for local SEO, and how can businesses optimise their online presence accordingly?
Using 'Online' as your location
An obvious potential solution is to simply replace the location with the word 'online': so a key phrase like 'SEO training workshop Manchester' becomes 'Online SEO training workshop'.
However, as 'online' is a much bigger area (theoretically) than your town or city, showing up for this phrase in search will be much, MUCH more competitive. Rather than competing against a handful of similar local businesses, you're up against the entire planet, so do your research and check if you can realistically stand out from the crowd for your chosen phrase.
It's worth noting that even if you are focusing on 'online' customers, you shouldn't ditch a location entirely. Even if the actual transaction/service takes place digitally, chances are many people will still be searching for you based on a location.
Analysing my own Google Search Console data, I still get way more impressions (times your page shows up on search) and clicks through from people looking for 'SEO training Manchester' rather than 'Online SEO training'.
Focus on locations you can serve rather than where you are
While your specific location might not be important when it comes to serving people, it is important to consider where your potential customers might be. The areas you serve are likely to be a much wider area than your town, for example your county or country.
Think about what your potential customers will be searching for when looking for a business like yours.
For example, if I were looking to get my boiler serviced by a tradesperson, I would likely search for someone in my same town like 'Boiler Repairs Stockport'.
If I were searching for a service where face-to-face time is not required, like a virtual assistant, I could cast my net further by searching for 'Virtual assistant UK'.
It's worth noting that in your Google Business profile settings it is possible to set an area you serve, whilst keeping your business address hidden.
Optimise your site based on your products or services instead
A more effective approach is to focus your SEO efforts on promoting what you have to offer rather than where you are.
One of my clients, the Stockport-based craft ale shop Heaton Hops, sell to people from all over the UK who search for specific beers. Whilst regular customers will typically enter the site via the home page, much of the incoming search traffic lands on a product page instead.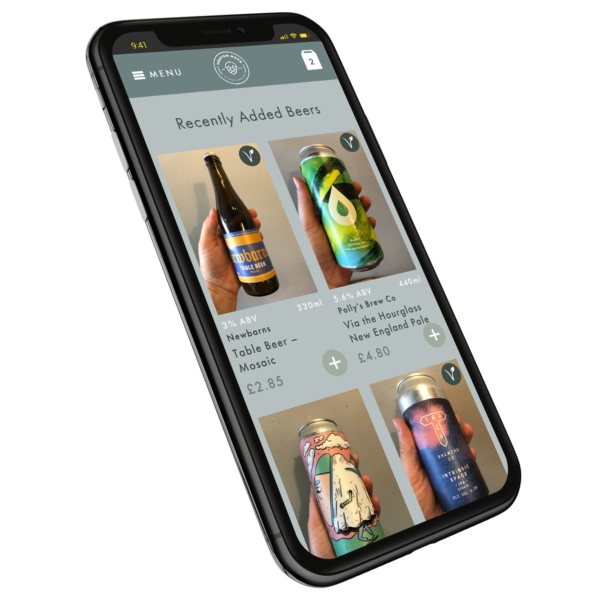 In this case, the location of the shop is effectively unimportant, as long as the customer can have the product they want shipped to them.
For service providers, make use of your niche phrases to help find your audience, like my pal Creative Wilderness who optimises her site for 'ethical branding agency'. This cuts through the noise of the more general 'branding agency' phrase. There will be less people searching for a niche phrase, however thought that do are more likely to be interested in what you offer.
Customers want to shop local
The flip side to all this is that the pandemic has also kickstarted bigger support for local businesses. Initially borne out of necessity, shoppers will continue to shop locally even as restrictions ease. Andrew Goodacre of the British Independent Retail Association has said: "In lockdown, people realised what was available to them locally and have been pleasantly surprised by what they found so want to keep shopping there."
In addition to the convenience and willingness to support local businesses, people also find that there is an element of increased trust and commonality when they buy from businesses in the area. They can ask local friends for recommendations and hold out the hope that they won't always need to meet with their web designer/coach/accountant via Zoom!
Be local and online
Going forward, businesses will operate in a more equal mix of local and online. Even when businesses are able to run as normal locally, it will be beneficial to nurture the online custom coming from further afield too.
Here are some ways in which you can make sure your online presence supports this new business future.
Mention the areas you serve (rather than your specific location if you don't have one).
Make sure people know that whatever you offer is available virtually.
Optimise your site for your individual products and services.
Use Google Search Console to spot opportunities where you can optimise your site.
If you'd like to learn more about SEO, check our my self-paced SEO training course and improve your website's visibility in search!
Popular Article Topics
Series & Collections