Many businesses aim to reduce their impact on the environment, so it's no surprise that eco-friendly web design has become a popular buzz word (and in many ways marketing gold!) among ethical web designers.
I mean who wouldn't want an eco-friendly website?
Realistically though there can be no such thing as an 'eco-friendly' website, because ALL websites require energy to run and generate carbon in the process.
Unfortunately, unless a website somehow magically spits out trees, chances are its very existence is in a small way contributing towards climate change.
Instead of talking about eco-friendly web design, I prefer the idea of low-carbon web design. Low-carbon web design acknowledges the impact of a website on the environment, and aims to reduce this by limiting the amount of energy required to run your website.
Since setting up Root Web Design Studio, I have proudly developed and optimised many low-carbon web design projects over the years. What follows are my thoughts on developing websites to reduce your businesses impact on the environment.
This includes:
Designing your website in a way that uses fewer resources
Employing a thoughtful content plan that only includes pages which serve a purpose
Implementing a high-quality, optimised website build
Using a sustainable hosting package
Considering your SEO so you attract the right audience
What's the environmental impact of your site?
According to the Website Carbon Calculator, the average web page tested on the tool produces 1.76 grams CO2 per page view.
For a website with 1,000 monthly page views, that generates around 21 kg of CO2 per year – the same as driving 115 miles with a Kia Picanto (the most economical petrol car according to Buy a Car).
After tinkering with the home page of Paul Jardine Web Design over a period of time, the site now creates just 0.2 g of CO2 per page view.
The amount of CO2 generated by a website is influenced by the size of the page (specifically the amount of megabytes of a pages assets rather than the width of the page). Essentially, the bigger the page, the more CO2 is generated when the page loads.
The bad news is that the average page size of websites continues to increase year on year. This is partly due to advances in broadband and mobile network speeds that means your computer can download bulkier page loads faster which has lead to web designers worrying less about page speed and optimisation. This is of course something that needs to change.
Read more: How environmentally-friendly is your website?
Benefits of low-carbon web design
People generally want to reduce their physical and digital carbon footprints and will be on board with the idea of taking action to do their bit. However, it can still feel like a bit of a hard sell when you tell someone that redeveloping their website could save X amount of theoretical trees.
It may be that right now you're reading this and muttering: "Yeah trees are cool, but what's in it for me?!"
Well here are some top reasons why a low-carbon website can not just benefit the environment, but also help your business make some cold, hard cashmonies.
A low-carbon website is essentially one that is built well and loads super fast. This comes with many added benefits, including:
It's better for SEO – Search engines such as Google includes page speed as a key ranking factor, so if your site loads quickly, it's likely it will show up higher.
Customers will like you more – People are impatient. They want the info they are after right now, yesterday. Between 2017 and 2019 the average amount of time people spent on sites reduced by 6.5%. They just won't stick around waiting for a slow site to load. They'll go elsewhere.
Fast-loading sites work better on phones – which as of 2022 is likely over half your audience.
It's always good to know that doing right by the environment is also helping your bottom line!
Read more: Why your website's page speed is important
Designing a low-carbon website
While the page speed of a website is mostly determined by how well it is built, the design of the site has to facilitate this.
Where this comes into play is with the files saved on a page. The key to any fast-loading website is to reduce the amount of individual files and to minimise the size of those files.
Your site needs to be designed in a way that makes this possible. Here's how:
Minimise the number of images. Only include the ones that add to the content in a meaningful way.
Don't use loads of large images that fill the screen.
Illustrate graphics and icons as vectors.
Limit the use of video and animation (and do not let them start to play automatically).
Limit the number of different fonts you use.
Avoid functionality that requires extensive use of third-party scripts such as sliders and lightboxes.
Define a clear and sensible site structure. This lets people find what they need quickly and easily, without needing to load multiple pages.
Conscious content strategy
You should also consider your content plan in detail. A marketing strategy that just churns out clickbait articles to get views will result in a web server that is called upon time and time again for no real purpose.
A low-carbon content strategy should follow the principle of quality over quantity. This approach aims to attract a higher-quality audience. You might get fewer views on your content, but the people who visit your pages are more likely to be genuinely interested in the content (and more likely to buy from you).
Every page of your website should be evaluated before you decide to publish it.
Does it serve a genuine purpose?
Is it aimed at the people you want to engage with your content?
Will it be truly useful to them?
What part does this page play in helping people to the next step in their journey of discovery?
Read more: Seeking quality over quantity with your website content strategy
Quality website development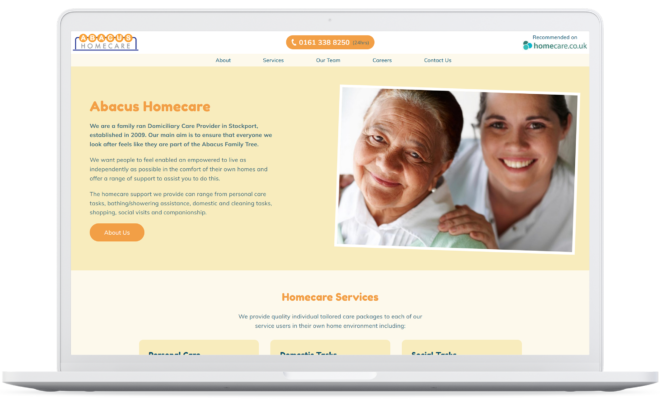 A fast-loading, low-carbon website needs a high-quality build. A high-quality website build is one that is efficient, with well-written code and no unnecessary extra bits which add to the load time.
When it comes to improving the performance of a website there are several things you can do yourself, for example:
Serve up jpeg and png images in the compressed webp format. If your site is built on WordPress, you can use a plugin such as the EWWW Image Optimizer to do this for you.
Ditch third-party tracking scripts, which is also better for the privacy of your visitors!
Use so-called 'lazy-loading' images which only load in as you scroll to them. Thankfully CMS systems such as WordPress do this automatically on images uploaded via the default Gutenberg page editor.
If you want to go a step further, you can ask a professional web developer to implement even more techniques. These may include:
Embedding SVG graphics into your HTML, rather than load them in as a separate file.
Compressing and combining common files.
Loading scripts only on the pages that need them, rather than on every page.
Replacing bloated plugins with an efficient custom replacement.
Read more: Why is my website so slow?
Sustainable hosting
All website hosting companies are not created equal, and particularly not when it comes to matters of sustainability.
When considering a sustainable hosting provider, it is worth finding out whether your website will be stored on its own server (the better option). You may find that cheaper hosting packages save money by putting multiple sites on a single server which will slow your site down. Such packages also may not offer the caching and compressing techniques which will speed up your site load time.
There are also web hosting companies who are committed to reducing their impact on the environment in a variety of interesting ways, ranging from offsetting their carbon and using renewable energy sources to power their servers, to responsibly disposing of old hardware.
The Green Web Foundation lets you check how sustainable your current web hosting setup is.
Read more: Tips for choosing good website hosting
Rethinking SEO
The website with the lowest environmental impact is the one that does not load at all.
But wait, you want your site to load so that people will buy from you, right?
Of course I'm not saying take your site off the internet and never let it load! But we can do a lot to only let people load our site when it actually matters.
Ultimately, you only really want people to visit your website if they actually do something worthwhile when they are there.
So how do you attract only the right people to your site? You need to make your SEO (search engine optimisation) work hard for you. Here are a few ideas to get you started:
Take a look at the page titles and meta descriptions you use for your site. Do they clearly state what visitors should expect when they click on your listing? Giving this information in the search engine result will reduce the chance of people bouncing (i.e. when they visit your site and immediately leave because it's not of use to them).
Optimise the keywords you use on your site so you attract the right audience rather than a mass audience. This will result in a smaller number of visits to your site, but you can rest assured that they will be of higher quality than if you attracted the masses!
How to test the environmental impact of your website
Maybe you have no idea how sustainable your site is right now, or you want to track your progress over time. There are tools that can help you do that!
Website Carbon Calculator – this fantastic free tool by Wholegrain Digital shows how much CO2 is generated when your website loads and what this equates to over the course of the year.
SpeedVitals – Gives your web page a score as well as some techy tips on how to improve performance.
Google PageSpeed Insights – A regular among web developers, this tool gives your website in depth load time analysis and advice on where you can speed things up.
Beyond low-carbon website design
A low-carbon website design is not only less damaging to the environment, but it also has clear business benefits including improved SEO and giving your customers a better experience when they interact with your brand.
You also don't have to stop with your website, as there are many ways in which you can make your business more sustainable beyond the obvious things like recycling or planting trees (although of course those are very necessary as well!).
The digital carbon footprint of your website can be reduced by looking at things such as the amount of emails you send and receive, tidying your cloud backups and even things like deleting online accounts that you don't use.
Read more: Reducing the digital carbon footprint of your business.
Small changes add up to a big difference
If you're anything like me, the state of the world and the pressing climate emergency with which we are faced can feel overwhelming. It can feel like our small efforts are but a drop in the ocean, and do not really make a huge difference.
As I remind myself when these thoughts enter my mind, I would like to remind you that:
We can focus on progress, not perfection.
A lot of small positive actions can work together to bring about a tidal wave of change. If we all play our part and do what we can, we can make a real difference together.
If you would like to talk about low-carbon web design and how you can become a more sustainable business, I can help! Check out my low-carbon web design services (which are always geared to making sites leaner, greener and super fast) or my web design consultancy if you need some advice on optimising your existing website.
Popular Article Topics
Series & Collections