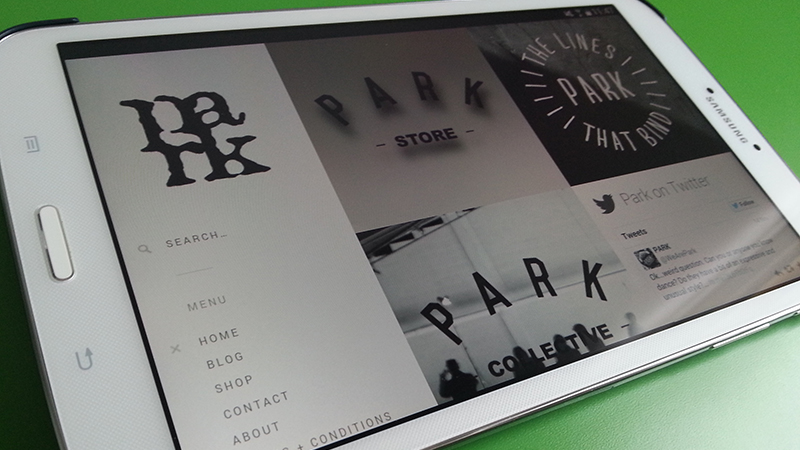 Park are an independent clothing store based in Chorlton, Manchester who produce custom made, high quality fashion for skaters, BMX riders and snowboarders.
The team at Park wanted to give their existing WordPress website a revamp to co-inside with the launch of their new clothing line and I was more than happy to get on board with such a cool project.
Using the 0mm theme as a starting point I was tasked with integrating a WooCommerce shop and adapting the template to fit with the Park branding. I also created a custom home page which featured a range of social media feeds to encourage visitors to connect and interact with the Park team.
I was trusted with a fairly open brief and as I was working with an existing theme, I took to designing the site in the browser which made for a speedy build and kept costs down.
As with any website, it really started coming to life once it was populated with interesting content and the Park team have added some stunning photography and graphics to the site as well as many great products to the store.
WooCommerce has shown itself to be a powerful and adaptable eCommerce tool and was easy to work with both from my point of view as the developer and the Park team in managing their products.
Shay from Park said "Paul is on it, he knew what we wanted to achieve and he had this nailed in a very short time frame. We had some refinement requests which were done within 24 hours. Basically we had a chat, sketched down some thoughts and he made it happen over the course of a week and we ended up with a really slick optimised site for various platforms.
The service was excellent, Paul is always available for advice and feedback and well worth the design fees and I'd definitely recommend him."
You can visit the new Park website at www.WeArePark.co.uk.