After a short break, my SEO for Small Businesses workshop relaunched last week at a new venue and time slot.
It was important to me at the end of last year to look back at the workshops I delivered up to that point and make sure what I was offering still met the needs of the local business community.
I had a good response to my survey, and decided to run the workshop in a morning slot (10am – 12:30pm). I also mixed things up by holding the workshop in a new location: Stockport's fantastic new coworking space Profolk. Tandem, one of my favourite Stockport coffee shops where I hosted the workshops last year, still provided the delicious baked goods for attendees!
Who is the SEO workshop for?
When I looked back at who attended last year's workshops, I was amazed at the wide range of people who came along. There were one-person businesses, small companies and digital marketers from larger institutions.
In terms of sectors, we had architects, antiques dealers, Chinese medicine experts and even a baby masseuse! Many were from Stockport and Manchester, but some people travelled from further afield, for example from Leeds.
Ultimately, everyone had the same goal: to bring more traffic to their website. However, everyone requires an individual approach to achieving this objective, depending on factors such as whether they are offering a service or a product, their specific audience and whether they are selling locally or to a wider area.
Understanding the basics of SEO is incredibly useful for anyone who wants to promote their business online.
Karen Webber of Goodness Marketing said "Paul is a great teacher. He is very generous with his knowledge and explains everything clearly and patiently. His workshop is a perfect chance for small businesses to learn the basics of SEO in a friendly environment where you can ask lots of questions and get reliable answers. I would highly recommend Paul's SEO workshops if you are baffled by the intricacies of search!"
How has the SEO workshop changed for 2020?
The workshop evolved quite a bit over the course of last year. I added some slides and took some away, based on feedback from attendees about what they found most useful and what they wanted to know more about.
This year, my main aim is to focus on creating an SEO strategy that incorporates a solid plan for content, careful consideration of keywords and a practical way of implementing these on a website.
I've also decided to slow down the pace in order to allow more time for people to ask questions. From the feedback I've had, I know that one of the things people have found the most useful was everyone bouncing ideas off each other.
In order to facilitate the slower pace, I've taken away the section about monitoring website traffic with Google Analytics. People tell me they enjoy learning about this, but there is so much to learn about the software and what it can do, that it felt squeezing it in at the end of the session didn't do it justice. It may be that I run a separate workshop just about Google Analytics in future, so if you're interested in that, do let me know!
How my SEO workshops have helped people
Advice is only good if people actually go off and implement it. Fortunately for me, I've had some very studious attendees who have gone off and applied their new knowledge to their websites.
One of these was architect Sarah Green from Another Architecture & Interiors in Stockport, who attended my workshop last year. We then spent half a day together before Sarah used my guidance to improve her site's SEO.
After Sarah made the necessary changes to her site, she started seeing some fantastic results. Her site now ranks near the top of Google for competitive keywords such as Stockport architect, and this has resulted in a noticeable increase in enquiries and new jobs.
This goes to show that investing in SEO can pay off and really affect the bottom line of your business!
Learn about SEO for small businesses
The January workshop was fully booked before I'd even managed to write this blog! It was great to see the attendees share their challenges with the group and try out some of the improvements to their sites there and then.
Profolk was a brilliant venue: convenient and central in Stockport, in a comfortable room and with hot drinks and biscuits readily available – very important when you're going to spend a couple of hours learning new skills!
The next workshop will take place on Monday 23rd March 2020. View my workshops page if you want to join us!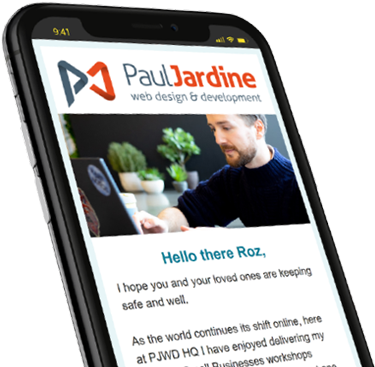 Get the most from your website
Get helpful advice and articles into your inbox once per month with the PJWD newsletter.
1 email per month. Unsubscribe any time!
Popular Categories
Top Tags