You probably already know that a solid online presence is more important than ever for small businesses.
Social media makes it easy for anyone to be found online, but being at the mercy of platform rules and algorithms is not a reliable digital strategy.
The big appeal of social media is that it's free to use. I will readily accept that not everyone is in a position to have their site built by a professional web designer like me (although I can confidently say that a professionally-built website will always pay for itself!).
I would argue that having a DIY site is still better than having no website at all – lots of people who attend my SEO training workshops have done just that.
If you're just starting up or your budget is tight, you might be better off investing the money you do have available in creating a solid brand or a marketing plan.
You can also consider more of the pros and cons of working with a professional web designer in my article Should I work with a web designer or use a template?
If you want to go down the DIY route and build your own website, you can use these top tips for getting started.
Choosing a CMS
Your CMS (Content Management System) is the software you will use to build and manage your website. There are many different options, but two of the most popular and widely used ones are WordPress and Squarespace.
WordPress
The first choice you will need to make is between managed hosting via WordPress.com or hosting your own WordPress site via WordPress.org.
The latter allows you to download the software for free, and then install it on a web server so you can start creating your site, as well as install your own themes and plugins.
This option requires some technical knowledge and is what I use when I build sites for clients (I build custom themes from scratch rather than use pre-made ones). WordPress offers lots of options in terms of flexibility to add new functionality as well as the greatest number of ways to optimise your website's pagespeed.
Most people who build their own sites use WordPress.com, because it allows you to create a site without having to download software, paying for hosting or managing a server.
Though please note that whilst easy to set up, WordPress.com sites are very limited and I would always recommend the self-hosted option.
To summarise:
Highly flexible with gazillions of pre-built themes and plugins to use, though quality of these can vary massively!
WordPress.org software offers huge amount of options for optimising your page speed
Fun factoid: WordPress was co-founded right here in Stockport!
Squarespace
Squarespace is comparable to WordPress.com in that it offers fully managed cloud hosting and a drag and drop visual editor with templates.
Its main benefits are the intuitive drag-and-drop page builder and the fact that you don't need to set up hosting yourself.
However, it lacks options for optimisation, which leads to your site loading more slowly (which is not great for user experience or SEO).
To summarise:
Intuitive drag-and-drop page builder
No need to set up hosting yourself
Lack of options for optimisation which leads to slower page load speed.
Ecommerce solutions for online shops
2020 changed the way in which people shop. Going online for everything from groceries and other essentials to fitness classes and Christmas presents became second nature for many people.
The result is that shoppers are not only more comfortable buying online, but many expect to be able to buy directly from a business website.
For many businesses ecommerce became the way to keep their livelihoods during lockdown, and even when not in lockdown, an online shop can be a great secondary source of income.
There are a few options available to you if you want to sell online.
WooCommerce is the powerful ecommerce extension for WordPress, and also has flexibility for websites that do more than just sell things.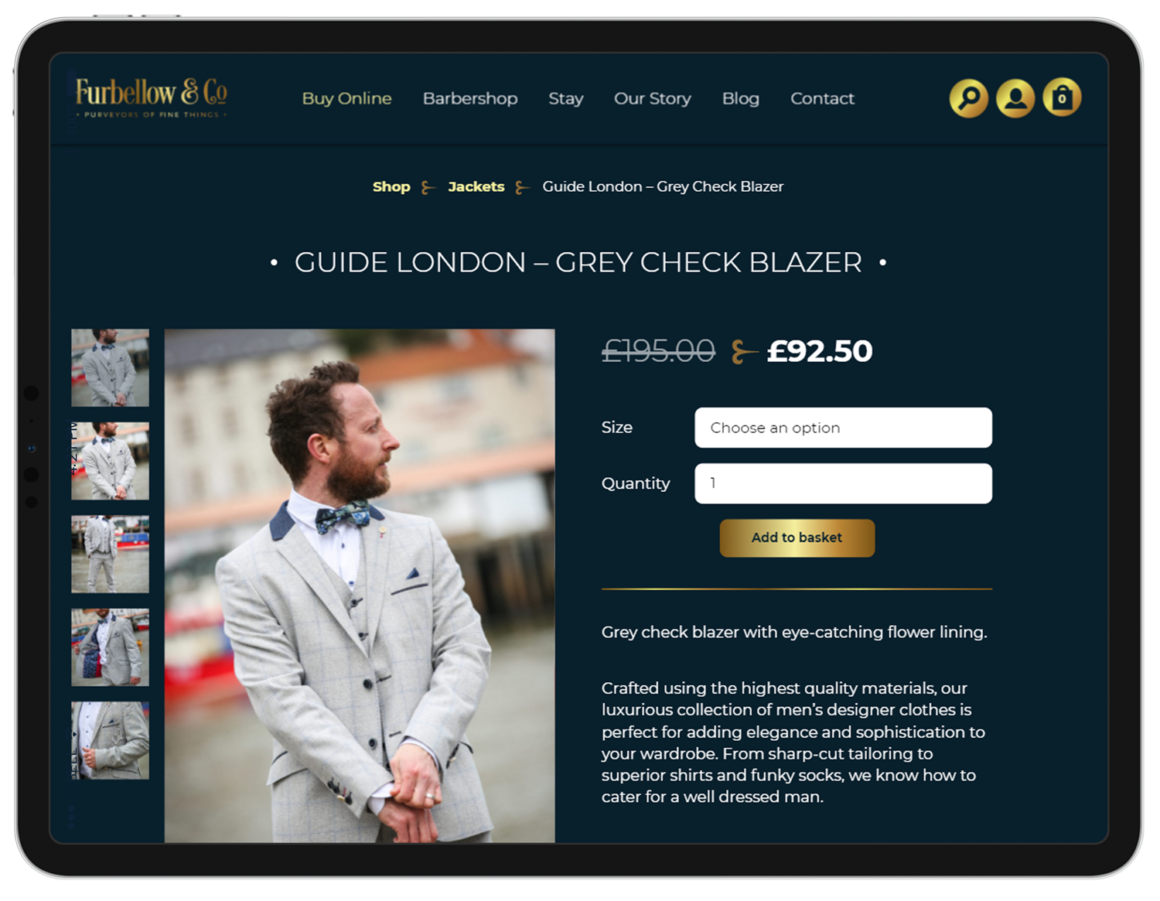 Shopify is an increasingly popular option for out-and-out ecommerce websites, particularly for owners of brick-and-mortar shops. It can also be used for in-person transactions (using a card reader and the Shopify app).
Squarespace also offers simple but limited ecommerce functionality.
The host with the most
If you choose to go down the self-hosted route, it's very important to get good hosting. But what makes for a good hosting provider?
The most important things to look out for is that it loads fast and is secure, that it automatically offers backups, and that it is powered by sustainable energy.
If you're looking at running WordPress, most decent hosting companies offer specialist WordPress hosting with all the software already installed.
You can also check out my guide on how to choose a good website hosting provider.
Thinking about your budget
Whilst your website is the centrepiece of your online presence, it is part of a more intricate tapestry that tells the story of your business.
Depending on your business and unique circumstances, it might make more sense to invest your available budget in other parts of this tapestry. Here are some of the other areas to consider.
Branding
A brand experience that is unique and well thought out helps you to build meaningful relationships and trust with your audience, explains Charlotte Holroyd of Creative Wilderness.
How ethical branding can help your business and the world
Marketing
Karen Webber of Goodness Marketing says it's worth investing in a marketing strategy because it can help you get found and make money. In this guest post, she also explains how marketing can actually be something you enjoy!
Why every business should invest in marketing
Photography
Brand photography can help you whether you're a product or service business, says Jodie Thackray of Photo and Flourish.
For service businesses, photos can help convey your personality, while product photography helps people visualise the item as part of their lives.
The importance of great photography for small businesses
Copywriting
Great copy goes hand-in-hand with great website design. Becky Thorn of Comma Chameleon explains that not only will hiring a copywriter at the same time as a web designer save you time and money, it will allow you to take visitors on a seamless and cohesive journey.
Web design and copywriting: the dream team for your website
I'm fortunate to have had the chance to work with some brilliant professionals who can help with your branding, photography, copywriting and marketing plans. Find out more about them on my recommendations page.
And always remember, it's about progress not perfection!
If you need help or advice you can pick my brain in a Power Hour or I can review your website and give you pointers on where to make improvements. Just please don't offer to pay me in "exposure"!
Popular Article Topics
Series & Collections