In this month's instalment of guest posts by some of my favourite collaborators, we have Becky Thorn, the creative brain behind Comma Chameleon, a Manchester-based creative copywriting, editing and proofreading service.
Becky's love affair with all things wordy began at an early age, when she started writing stories as a way of entertaining herself while her brothers kicked the sh*t out of various pixelated characters on the MegaDrive.
When she grew up, Becky channelled her love of words into a career in journalism, eventually moving to work in-house at the award-winning Specsavers creative department.
These days she finds her joy helping small businesses tell their stories through bespoke website content and badass blog posts. To find out more, head over to commachameleon.co.uk, or email becky@commachameleon.co.uk.
Why you need to get your web designer and copywriter working together
So you're in the market for a website. Congrats! You've come to the right place – Paul's a cracking fella, and I know from personal experience that he'll build you a genuinely awesome website.
But where are you at in terms of the content for your site? The images. The words on the page. All the stuff that's going to mean the difference between a potential lead staying on your site to have a look around, or them clicking straight back to the search results? If you haven't even thought about the content yet, now's the time to do it. Because unless you're writing the copy yourself, the best time to get a copywriter on board for your project is when you hire your website designer.
This is why…
It will tell your story
It will lead your readers on a seamless journey
You'll get the best version of what you need
You'll save time
You'll save money
You'll get more than you pay for
It will tell your story
A website isn't just there to look pretty. And it's not just there to provide information about your product or service, either. While every good website needs to do both those things, what's really going to elevate your website from functional to fantastic is the story it tells.
Your website is there to act as a window into the very soul of your business. It should transport readers into your world and leave them in no doubt as to who you are and what you stand for. So whether you're selling a product, a service, or Brand You, every element of your website needs to speak the same truth and tell the same story.
Having your website designer and copywriter working collaboratively at every stage of the project from conception to completion will ensure every design element and every piece of copy works in harmony to connect with your readers and communicate the story of your business.
It will lead your readers on a seamless journey
The primary function of any website is to guide the reader on a seamless journey towards the action you want them to take, whether that's buying a product, booking a service or engaging with you in some other way.
'Seamless' is the key word here, because if it's not easy for your prospects to find what they're looking for, they'll simply go elsewhere. For that reason, it's no good thinking about design and content as independent elements, because in terms of customer experience they're very much interconnected.
Seamless means cohesion. No sticking points. Nothing that jars or conflicts. Nothing that makes the reader stop mid-scroll and wonder what they're supposed to do next. The images need to talk to the words, the words need to speak to the layout, and everything needs to talk to the reader.
When a website designer and copywriter are given the opportunity to work collaboratively from the very beginning of a project, they will be singing from the same hymn sheet and working towards the same goals at every turn.
The upshot of this is that they'll be able to focus their collective efforts on making the customer journey as easy and as appealing as possible.
You'll get the best version of what you need
As creatives, website designers and copywriters will generally pour their hearts and souls into every project. So when there's even a small mismatch between what they create and what makes it out into the world, it generally suggests there's been some sort of compromise.
As a copywriter, I know it's much harder (emotionally, as well as practically) to edit a piece of writing down from 1,000 words to 200 than it is to write a 200-word piece in the first place.
I'll agonise over which bits to cut and which bits to keep. I'll be gutted if I have to bring the axe down on a particular nugget of copywriting gold because it just won't fit on the page. And neither I nor the web designer will be happy if it is left to them to chop my words to make them fit the design.
Equally, the designer is going to be pretty miffed if the client insists 1,000 words of copy are shoehorned into a space designed for 200. It's going to ruin their design, and it's not going to do my copy any favours either.
That's not even to mention the effect it will have on the reader.
Having your copywriter and designer working collaboratively from the get-go will mean they can both create something targeted that will shine as part of a bigger whole.
They will have equal input in shaping the direction of the project, a greater understanding of one another's visions and objectives, and a shared goal from the outset.
They will be equally focussed when it comes to doing their own thing, too.
The designer will know what and how much copy there will be, and the copywriter will know exactly how many words they need to write for each page, as well as the design elements those words need to speak to.
Everyone will be shooting sharp, and you're going to get the best version of everything your project requires.
It will save you time
Another benefit of having your designer and copywriter working collaboratively is that you'll save masses of time. Not just for yourself and your project, but for the designer and copywriter too.
On a project where the designer and copywriter work independently of each other, guess whose responsibility it is to keep everyone in the loop about changes, tweaks and updates? That's right: the client.
Every small addition to the design or layout, every tweak of a headline or trying-out of a list – all that needs to be communicated to everyone else.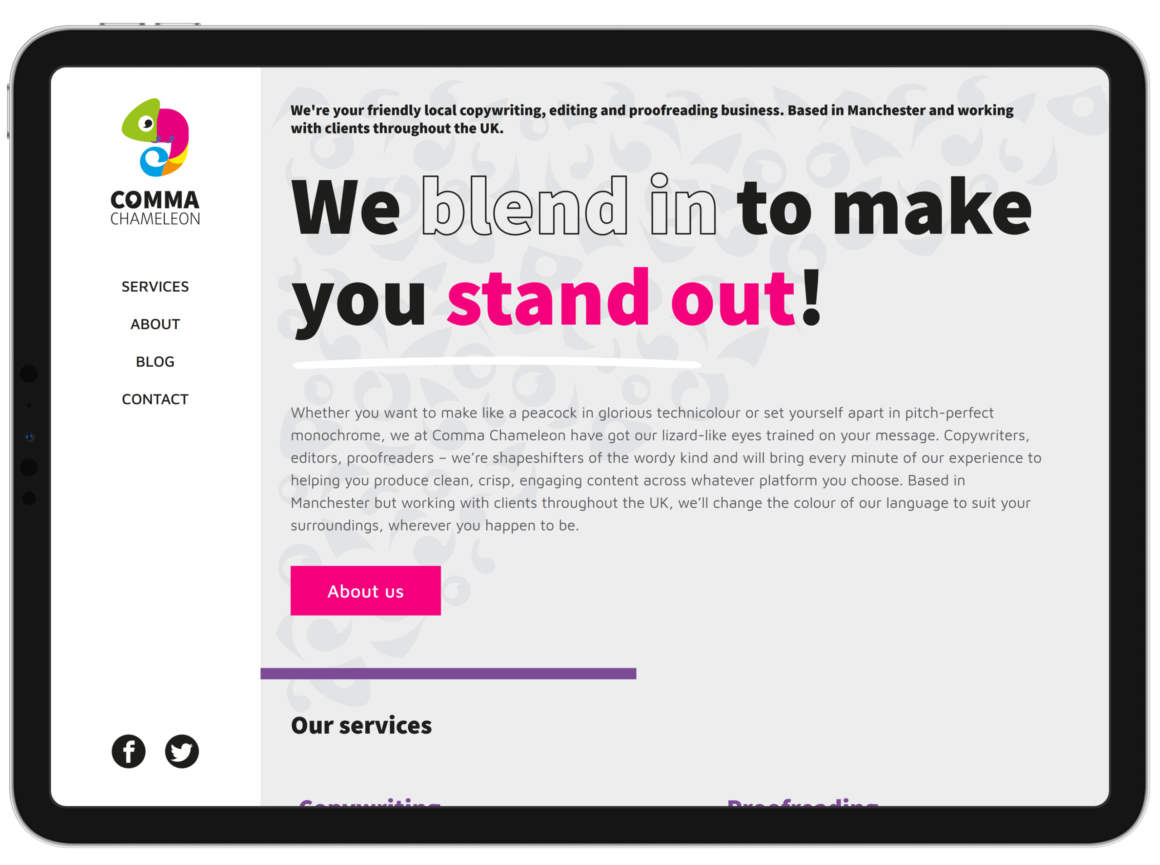 And when you're working with a copywriter and designer separately, the chances are at least one of them will have moved on to working with their next client, so what should have been a quick actually becomes a diary-juggling act that could throw a spanner in the works for your project deadline.
If you can get both your copywriter and designer onboard from the initial planning meeting, they'll not only have the exact same brief to work to, they'll also have the same timelines pencilled into their diaries and they'll be able to iron out any small design/copy changes and inconsistencies between themselves, as and when they crop up.
They'll keep you in the loop, of course, but it will take the onus off you, save you loads of time, ensure your project meets its deadline, and allow them to get on with doing what they do best.
It will save you money
The saying goes that 'time is money', and that's as true for your website build as it is for everything else.
Unless you've got your copywriter and web designer working collaboratively, there's bound to be at least one element of the project that requires changes to be made at some point along the way.
Most copywriters will offer at least one round of revisions in their quote price (at Comma Chameleon, we offer three), but anything over and above that will generally be charged at an hourly rate.
This means even seemingly minor amendments (which would've probably been quickly dealt with during a copywriter-designer collaboration) could end up costing you.
It might be that you and your designer decide at the last minute that you want to add a fact box to one of the pages to jazz it up a bit. If that wasn't in the brief for your copywriter and their work on the project has been signed off, that might become an extra charge.
Similarly, if your copywriter follows the brief to the letter and it doesn't necessarily fit with the completed and signed-off design, that could necessitate a redesign or a rewrite, both of which could cost you more.
Having the designer and copywriter collaborating from the very beginning will not only mean they are working towards the same vision throughout the project, it will mean they can communicate directly and continually with each other to keep you on time and on budget.
You'll get more than you pay for
Copywriters and web designers are kindred creative spirits. They live to create and they pour passion into every piece of work. So it's a bit of a waste to have them working independently of each other when the results of collaboration could turn your project into something really quite special.
Turning your designer and copywriter loose, together, will amplify their creative abilities to the benefit of your website. They'll bounce ideas off each other, let their inspirations fly, and will really get to the heart of what you and your business are all about.
In the end, you'll not only have a fully functioning website that says everything it needs to say and provides a seamless customer experience, you'll quite possibly have a work of art to call your own.
Ready to start your project?
This is just the tip of the iceberg when it comes to the benefits of getting your website designer and copywriter working together.
With the right team behind your project, your customers will get the best experience and your business will reap the rewards. If you're ready to start looking for a copywriter for your website, head over to commachameleon.co.uk to find out more about us. We're always up for a creative collaboration!
If you're just looking to update the copy on your existing website, we can do that too. Drop me an email directly at becky@commachameleon.co.uk and we'll hash out a plan.
Popular Article Topics
Series & Collections