Heaton Hops is an independently-run craft beer bar and bottle shop, now celebrating a year of their new website which I designed for them at the start of the pandemic.
I asked co-owner Charlotte about the impact the new web shop has had on their business.
Over to Charlotte…
Buying beer before the pandemic
Before the pandemic, 80 per cent of our sales happened on-site (draft beers) and 20 per cent was takeaway or off-sales.
We had a website with general information about the bar and opening times. It had a beer menu featuring what we were currently pouring and had in the fridges, but no ecommerce option.
Then came lockdown in March 2020. Lockdown meant we had to become 100 per cent takeaway/off-sales, and offer a delivery service to allow people to stay at home as much as possible.
Initially we put a beer menu on our existing website. Customers then had to email their orders and delivery address, and we took payments via bank transfer. We then had to email customers back, advising of stock levels and let them know if individual beers were available.
Finally, we had to enter the order manually into our shop POS (Point of Sale) system to create a receipt and pack it ready for delivery.
Designing an online beer shop
That's when Paul got involved. He developed the site to allow us to easily add new beers, have active stock levels, categories to make browsing easier, and of course take payments.
The amount of admin we needed to do was drastically reduced. Now we were able to take contact details, offer different shipping options and delivery dates, and create invoices and personalised packing slips automatically through the system.
It was also so much better for our buyers, as the visual representation of the beers in the photographs made it easier for them to choose.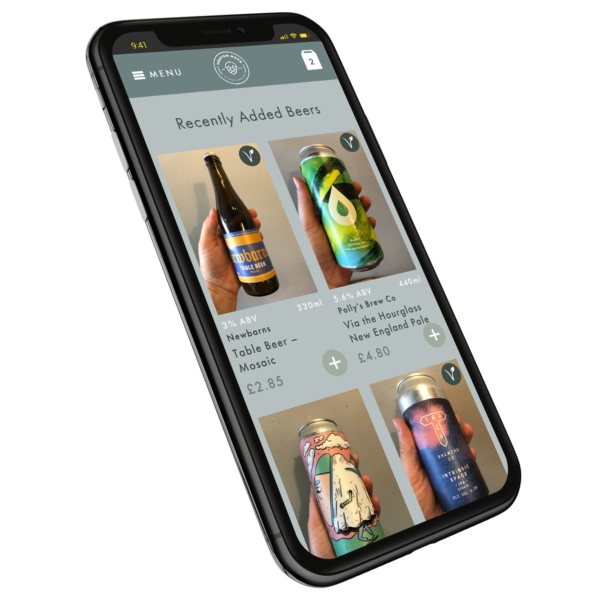 We worked with Paul to set up the website and once it was complete I was surprised at how user friendly it was. After a short training session, I was able to update and make changes to the website and content confidently.
We were really pleased that Paul's designs used a lot of our existing brand logo and colours in the new site, as that was familiar to our customers.
Customer feedback on the site
Since the site went live a year ago, we have had great feedback from customers. One customer said the website was "excellent- better than any other I've come across in online beer buying".
We have a lot of customers saying how easy it was to spend money on it! They like that it is really easy to navigate around, designed to make browsing simple and that it's clear what is fresh in each week.
The site has also allowed our beers to go international, as we had orders from Europe mainland pre-Brexit. We have sent beer to the Netherlands and Belgium and had enquiries from Italy, but need to work out the new exporting rules! We regularly have customers from all around mainland UK from Aberdeen to Cornwall.
Results & Insights
High customer engagement – Over 59,000 visits and 400,000 page views in the year since launch
New source of revenue – Strong search performance has found new audience of customers around the UK and Europe
Lots of beer sold! – Phase 1 investment paid for itself in under 48 hours
Post-pandemic beer shopping
We are now back open for onsite drinking, but we find that people still use the website to browse and pre-order their beers to collect or for delivery.
The website was a lifesaver during lockdown and allowed us to keep trading whilst maintaining the safety of all our customers. The amount of admin and time it reduced was enormous compared to how we were having to work. Now restrictions are easing it remains an extra arm to our business which is a great asset.
We are so proud of the website. We feel it really represents us as a brand and our customers like it a lot.
Working with Paul was a real pleasure. He understood our brand and listened to all our struggles with our old system. He designed a site to streamline and improve the retail side of our business at a time when we really needed it.

Paul has continued to be available to assist with further developments of the site and brought ideas to help to continuously improve the customer experience.

Charlotte Winstone, Heaton Hops