Foodie Friday is Stockport's massively popular monthly community event offering street food, craft ales and live music.
The original website was launched in January 2016, and I'm proud to have been involved from the start!
The Brief
As the web developer on this project, I had to turn the full-width web designs into a fully functioning mobile-responsive website. It had to perform well on phones, tablets and wider screens.
Process
The website is made up of a single scrolling page with a fixed-top navigation, which allows the user to easily scroll up and down if they are looking for a specific section.
With all the website content appearing on one page, the challenge was to ensure everything is compressed and optimised to ensure it loads quickly.
In addition to compressing the images, I also used the HTML5 <picture> element to load in smaller versions of the images when the website is viewed on a phone. All this decreased the page size further to optimise load speed.
I set up the back-end of the website using WordPress and Advanced Custom Fields, to allow the Foodie Friday team to easily update the site themselves when they need to amend the impressive line-up of food traders.
With Foodie Friday continuing to grow in popularity, the pressure was on for a tech solution to streamline the process of enquiry and booking by prospective traders. We added a trader registration form to make it easier for people to sign up and submit their documents, which greatly reduced admin pressure on the busy event organisers.
Results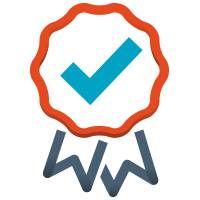 Popular among the Stockport community
The website has proved to be incredibly popular and has received some fantastic feedback from traders and members of the Stockport community.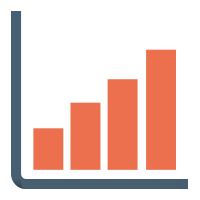 High website traffic
The site has had more than 60,000 users since its launch less than three years ago. The average number of monthly users for 2019 so far is over 2,000, which is higher than the all-time average of around 1,500. In August last year, the site had 800 users in a single day, showing the importance of the site for the event.
What's next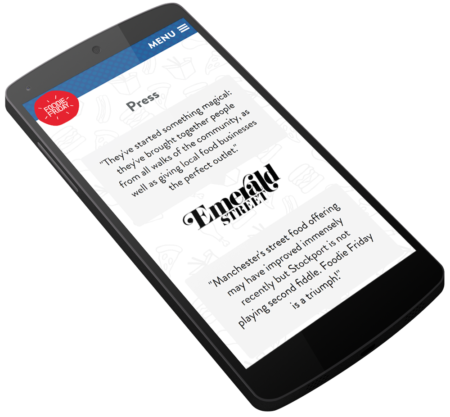 Foodie Friday continues to go from strength to strength. It's been amazing for the area and I have no doubt it has been a major factor in the recent upturn of new businesses moving in.
What the Foodie Friday team said...
Great work Paul! Thanks for all your support.
Rosemary Barratt, Stockport Foodie Friday
More Case Studies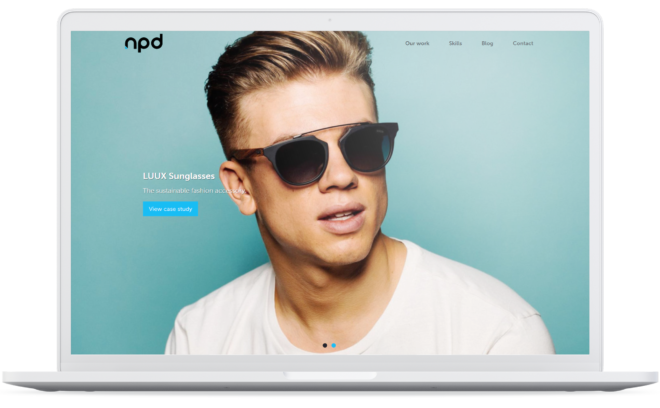 Clean and minimalist website showcasing the work of skills of the UK product design studio NPD.
Load time reduced by 4 seconds
Traffic has doubled
Improved search performance
Read the North Product Design Website case study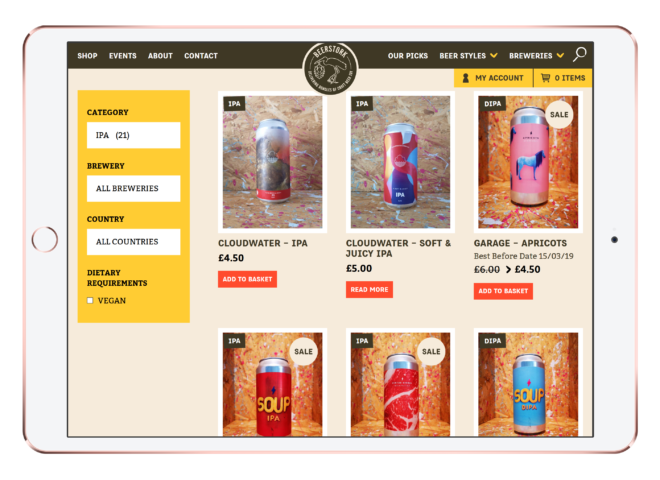 Custom built online shop for the Stockport based craft beer delivery service, developed in collaboration with Creative Wilderness.
Increased sales
Improved search listings
Improved relationship with stockists
Read the BeerStork e-Commerce Website case study
View more projects