Happy 2022! I hope you are settling well back into the rhythms of the new year, or perhaps you are changing things up a bit?
Here at PJWD the focus this year will be on slowing down and doing better work for existing clients. I'm looking forward to forging deeper and more long-lasting relationships, rather than constantly trying to chase after new clients.
As part of this, I decided to close down the PJWD Instagram and Twitter accounts last year. This frees up more time and energy to concentrate on things such as improving the SEO of my website, writing better blogs and creating this newsletter.
January is a good time for clearing out and making fresh starts, and I've been rethinking how to keep my email inbox under control. In this newsletter, Bo the web design hound shares some top tips for getting a handle on your inbox.
One other exciting change for PJWD this month is joining the professional community at Mustard Coworking in Stockport Old Town. I'd almost forgotten how nice it is to work in the same room as other people!
As always, if you have any questions or comments about this month's newsletter drop me a message. If you are making changes to your business this year I'd love to swap notes!
Blog: Quality over quantity
We are told it's a good thing to strive for 'more' in business. But in the quest of endlessly growing our businesses, when does 'more' become 'enough'?
I've been sitting with this idea and considering the impact of chasing 'more' on:
the environmental impact of our websites,
our own digital wellbeing, and
reducing the number of tracking scripts plastered across the internet.
I wrote about it in my latest blog post about how less can be more in business (and in life).
Blog: Contact form tips
If you have a service-providing business, one of the main aims of your site is likely to be getting someone to fill in your contact form.
But this action is far more than just a means of getting in touch. It is really the start of a relationship between you and your potential client.
Unfortunately, too many businesses don't pay much attention to their contact forms – often opting for whatever standard option is offered by their website builder.
If you want to make a great first impression and use your contact form to do so, I've written a post with tips and things to consider when creating your forms.
Learn SEO in 2022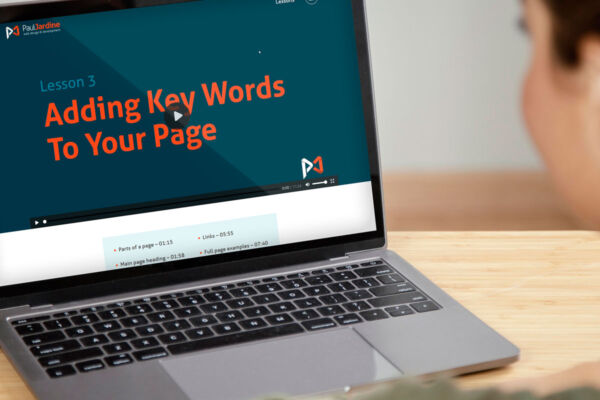 I continue to add new content to my self-paced SEO course, and the newest feature is an intro video to give you an idea how the course will work.
Early birds can now access lessons 1 to 5 for £200. Lessons 6 to 8 will be added in the coming months, when the price will increase to £300 (but not for early birds, who get lifetime access to the 8 lessons for £200).
If you have questions about whether this is a good course for you, just hit reply and I'll give you my honest opinion (believe it or not, SEO might not be for you!). For example, if you don't like learning and just want someone else to take care of SEO for you, then fair enough! I might recommend my consultancy services to you instead.
But if you want to work on your SEO this year with some solid understanding to back you, check out the course now.
Bo's top tips for taming your email inbox
As we all know, Paul loves a bit of Digital Minimalism. He's doubled down on taming his inbox this January, and I've been taking notes to share with you here. He can control his emails, but not me (unless he tricks me with treats).
Don't have a tab open all day with your emails. No notifications either. Instead, commit to only checking your inbox at certain times per day.
Create a folder called 'To action' where all new emails get stashed until you're ready to reply. This keeps the inbox free of distractions and things shouting out 'deal with me now!' even if they're not genuinely urgent.
Set up filters so newsletters go into a folder to be read later.
Unsubscribe from any emails you're no longer interested in.
You can have spammy emails deleted without them ever getting into your inbox. Make your blocker work hard by regularly adding common spam phrases to it so it filters those messages for you.
How do you tame your inbox? Share your top tips by replying!
Elsewhere on the Internet
Quitting social media as a business owner
PJWD is an almost social media free business as of last year. So I was interested to come across this article last week of one copywriter's lessons from taking a year-long break from social media. What resonated most with me was how without the distraction of socials, the author regained so much time and energy which he could focus on improving other areas of his business.
Stripe Climate
Online payment gateway Stripe has recently launched Stripe Climate, which allows you to automatically donate a small portion of your web shop's profits towards emerging carbon removal technologies. I set this up for the PJWD Training website and was pleased to hear that my SEO course will be contributing towards some fairly mind-bending projects to remove CO2 from the Earth's atmosphere.
Tracking
Interesting thoughts on online tracking from digital privacy advocate Jeremy Keith. Whilst I disagree that ALL tracking is wrong (anonymous data tracking of your site can be used positively), he shared a quote by Eva PenzeyMoog which really rang true for me: "The idea that it's alright to do whatever unethical thing is currently the industry norm is widespread in tech, and dangerous."
Popular Article Topics
Series & Collections